A three-day weekend in Sydney with a friend, with a pact that it would NOT be a shopping weekend. No boutiques, no shoe shops, no arcades. No, my friends, this was a girls' weekend in Sydney to relax, to live like a local.  You heard me – we were going to Sydney to chill.  Here's how we managed.
The Terrace House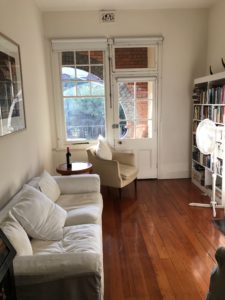 We wanted character, space and walking distance to The Rocks and central area of the CBD, so we went straight to AirBnb.  The 110 year old terrace in Millers Point was perfect. Behind a discreet doorway between two restaurants, a hallway led to the high-ceilinged living room and kitchen, with stairs leading to two bedrooms, a bathroom and airy, light-filled second living room upstairs.  A narrow sunny terrace with a glimpse of the bridge was shared by one bedroom and the upstairs sitting room, while the main bedroom opened out to a small private, plant-filled space.
Our Kent Street location meant we could easily walk to The Rocks, Circular Quay and Barangaroo from a relatively quiet area. (Friday nights meant a bit of street noise from the two pubs very close by but otherwise was fine.)  Arriving before check-in, the cleaner accepted our luggage and we wandered off to find a spot to lunch.  Just a few minutes away we found the Barangaroo Reserve, a peaceful parkland area with an elevated 180 degree view of the harbour and bridge to satisfy the fussiest photographer.
We set off in the general direction of Glebe, where my travel mate had spent some wild and carefree days in her youth.  En route, we came across Barangaroo's dining precinct and settled on Cirrus for (my birthday!) lunch.  Settled at a table outside the restaurant, we ordered chablis before facing the difficult task of choosing a meal.
Seriously good food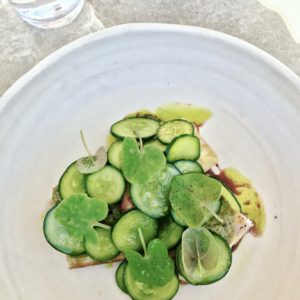 Cirrus is all about seafood, and fish (see pic) narrowly won out over the bugs and marron.  The food and service are first class and we spent an easy couple of hours here before wandering further south to the streets of Glebe.
After pounding the pavement and finding some of the old haunts of Glebe still standing, we stopped for coffee and a late dessert (a delicious cherry cheesecake) at Badde Manors cafe.  A quick stop for a couple of bottles of Spanish red and a few deli staples and we headed back to our home away from home for a simple night in.
Over the following days, we sampled dishes from The Lord Nelson Brewery Hotel Restaurant, Bondi Icebergs Club and Fish at the Rocks.  My only quibble was the wine list at the Lord Nelson. It lists hundreds of wines, making a choice more difficult than it ought to have been, and with what seemed like an enormous mark up.    Other than that, food and service were both spot on.
The Lazy Guide to Sightseeing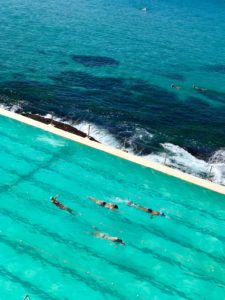 The most energetic thing we did all weekend was the coastal walk from Bondi around the point before we stopped at Icebergs for lunch.  Dodging tourists, backpackers, runners and locals we were happy to take it slow and take in that view.  The walk continues to Bronte and then onto the scenic Waverley Cemetery, resting place to notable Australians like Henry Lawson and Dorothea Mackellar.
Another afternoon was spent catching the ferry to nowhere in particular, simply taking in the sights on the harbour on a sunny autumn day.  We didn't expect to be people watching while out on the water, but with so many other crafts out there it was the harbour version of Grand Central Station.  We're still wondering about the boat full of young men in suits and the topless woman chatting away while they postured and laughed rather too loudly. Hmmm.
So it can be done – a long weekend in Sydney and not a shopping bag in sight!
Icebergs at Bondi