Just a couple of months ago, 2020 seemed full of promise.
I'd been telling people it was MY year, as things began to fall into place in different parts of my life: my freelance writing business was growing, I had a whiteboard full of doable plans and ideas (some actually marked as done), and a long-standing personal issue was about to be resolved.
As part of my one-year, self-directed alternative learning experience (aka Year of Life grad year ;-)) plan, I started learning Spanish again, using a combination of online courses, an accountability group, native-speaker sessions and podcasts. Thoughts of a month living in a Spanish-speaking country were moving into research phase, as I checked out towns in a couple of countries where I could potentially book into a language school and live fairly cheaply.
I didn't figure on a global pandemic interfering with those plans.
Overseas travel now seems to be a distant dream and to be honest, I'm just feeling happy that I live in Australia and that my family and friends are safe and healthy. My freelance business has slowed pace and I have more time on my hands for thinking, planning, implementing and spring cleaning. Spring-cleaning?
That last one surprised me too, but it's connected to having two young-adult children back home from interstate and overseas as their work also disappeared. As furniture moved around to accommodate extra bodies, objects related to past travels popped up to remind me of old adventures. Each one has a story, and I'm reliving places, people, bus and train trips, strange foods, customs and the odd scary moment through these objects.
Kenya in the late 80's was an eye-opener for this Aussie backpacker.
Arriving in Nairobi just after the Commonwealth Games in Australia, my travel buddy and I emerged from our cheap hotel into a colourful and rowdy street parade welcoming returning athletes, who brought home nine medals, including five gold.
We'd also been surprised by the amount of armed security guards and bars on shop windows in the city centre, and the amount of beggars on the streets, many with physical deformities, some missing limbs.
We were told later that modern-day Fagin's controlled gangs of beggars, often children, dropping them off in key tourism areas for their 'shift', and collecting them again later in the day. Stories of generations of beggars in the same family emerged, terrible stories of parents deliberately maiming their own children in the hope of drawing more sympathy – and money – from well-to-do travellers.
And if you could afford to leave your own country, you definitely fell into the well-to-do category.
In stark contrast, visiting the Indian consulate to arrange a visa for the next leg of our travels took us to leafy suburbs where gated mansions sat amid lush green gardens and immaculate lawns. The colonial era architecture was impressive in this oasis from the dusty city, where we were spending most of our time.
Compared to Australian and European cities, Nairobi was a small city and we managed to get around by foot for most of our sightseeing. We became used to being the only white people on buses or in back street restaurants. We learned that when there's no cutlery provided in a curry house, naan bread is used to scoop food into the mouth, and only the right hand should be used when eating. We almost got used to the milky, sugary tea that was brewed all together and poured from huge teapots no matter where we were staying.
We'd come to Kenya for one main purpose – safari.
We booked an eight-day truck and tent safari that looped from Nairobi to the Masai Mara NP, Lake Naivasha, Nakuru, Amboseli NP and back to Nairobi. We set off in a truck decked out with bench seats in the open-sided, tarp-covered back, with a driver and a cook, two Australians, two Americans and a dozen or so English and Scottish doctors and nurses doing their prac in Kenyan hospitals.
Our daily routine involved rising before sunrise to drive to wildlife areas to view as many animals as we could, driving to the next camp site in the middle of the day and going out again in the afternoon. We put up our own tents while our cook and driver set about setting up cooking facilities, a 44 gallon drum of fresh water for washing (consecutive days without a shower made that 44 look pretty good), and fashioning a fabric privacy screen for the long drop toilet at each camp. Masai warriors dressed in red and armed with knives and spears appeared out of nowhere in the late afternoon to protect us during the night.
They escorted us to the toilet if we needed to visit through the night, to keep an eye out for wild animals or poachers. If the thought of these dangers weren't enough to make a visit to the loo a strange nocturnal outing, the mid-stream negotiations to swap watches for spears or t-shirts for beads – using sign language and broken english – definitely added to the experience.
The truck was met by hawkers and children in the towns we stopped in, at crossroads marked by one or two rundown timber buildings and under trees next to tiny shops selling soft drinks and fruit.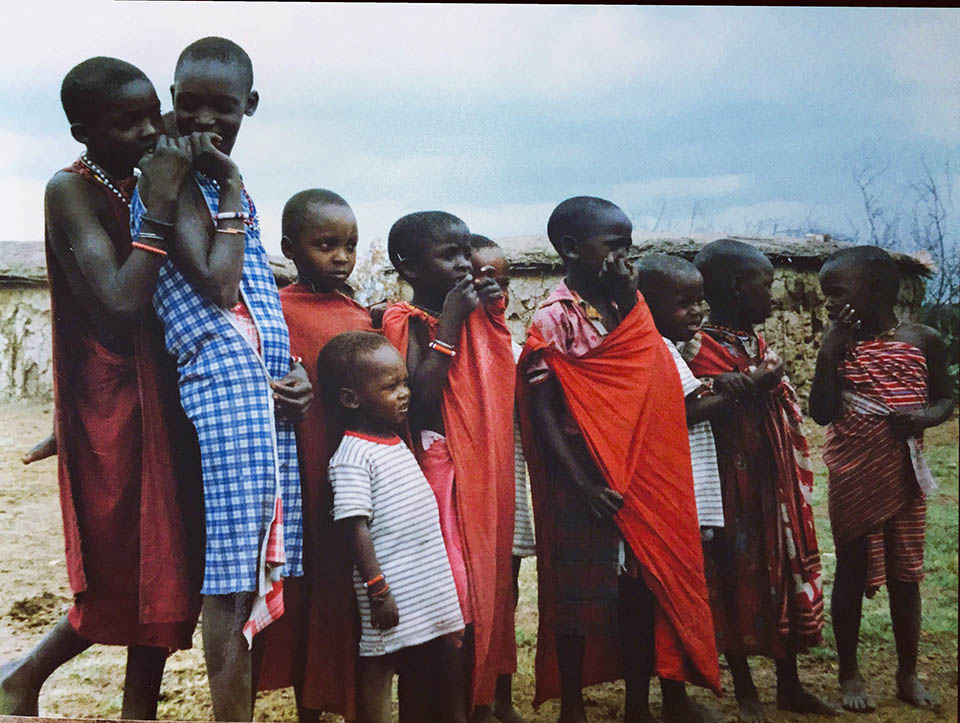 At each stop we were approached to buy soapstone carvings, wooden sculptures, baskets, tribal masks, spears and batik fabric. Children and adults swarmed around us holding up their merchandise and calling out prices. The less-practiced hagglers in the group came away from these pit stops laden with souvenirs and with lighter wallets. I still wonder if anyone managed to get a spear onto an aircraft and through customs for the journey home.
It was at one of these dusty crossroads stops that a barefoot young man pushed batiks at me in the throng of people as we stepped out of the truck. They were full of the reds and yellows common in the Masai fabrics and were brighter than those I'd seen in Nairobi. Stiff with wax, these showed details in Masai dress I had seen every day on our guards – beads, feathers, headwear and weapons.
The day was hot and there wasn't much shade so the haggling process didn't take long.
I left with two batiks and a few soapstone animals. They travelled with me through four more countries before getting home and spent another couple of years in a box before I finally had them framed. The wax in the fabric made getting the creases out tricky but with the help of an expert framer, we managed it.
I gave one away to a friend a few years ago and kept the red Masai warriors for myself. It's a reminder of a different time, a different culture and a time for me to learn. Isn't that what travelling is meant to do?
What treasures have you brought home from your adventures?